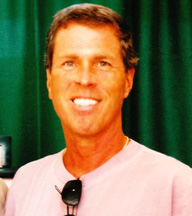 Hi Sports Fans,
My name is Jim Dagon and I own & operate Sports Heroes & Celebrities, of Hornell, NY, a "booking" agency specializing in supplying sports personalities and other celebrities for speaking engagements, autograph sessions, golf outings and "private signings".

I deal mostly with retired players from the world of baseball, basketball, football, hockey, boxing, golf, Olympians and Hollywood personalities. I do, however, have contact with many current players.

Please take a moment to browse my site. As you can see, I am able to contact hundreds of personalities – all on your behalf.

If you have a need or desire to have a celebrity appear at your next event, (or know someone who does) please feel free to call, fax or e-mail me for prices. I have earned a reputation as being the fairest, most honest and least expensive "booking" agent around.
Respectfully,
Jim Dagon
Sports Heroes and Celebrities will Contact, Negotiate Price, and Secure your favorite sports personality or celebrity ALL ON YOUR BEHALF. Call, Fax, or E-Mail Jim Dagon for prices on Celebrity Appearances. Let Jimmy Dagon make your next event UNFORGETTABLE!